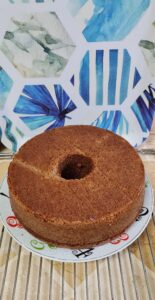 I've challenged myself to post 29 honey recipes in the next month – BEFORE Rosh Hashana.
Not just your Bubbe's honey cake. As a beekeeper and avid cook I can take you and your honey places you've never been before- culinarily speaking.
So grab your honey and let's get Buzzin'.
30g of honey- how much is 30g of honey? In a honey bees' lifetime she will produce 1/12 tsp of honey. The process itself has multiple steps and requires the combined efforts of an entire hive.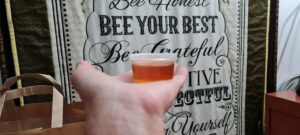 Using honey in baked goods has several advantages over sugar. Honey creams with fats rapidly giving a smooth fluffy mixture. Honey produces an attractive deep brown crust on breads. Since honey absorbs moisture from the air, baked goods remain moist and fresh much longer than when cooked with sugar. When substituting honey for sugar in recipes, consider the following guidelines:
| | |
| --- | --- |
| If the recipe calls for: | The reduce the liquid portion by: |
| 250ml of honey | 45ml |
| 1000g of honey | 186g |
To be clear – I am not your Bubbe. But this is my Honey Cake. Pretty much. No substitutes here.
You Will  Need: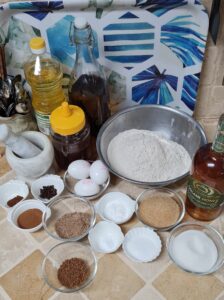 Tube Pan
Oven
Baking tray or pan
Stand mixer with paddle OR large mixing bowl with appropriate spoon
450g unbleached flour
20g Flax meal
1 Tablespoon baking powder
1 Teaspoon baking soda
1/2 teaspoon salt
1 teaspoon ground cloves
1/2 teaspoon ground nutmeg

175g vegetable oil
140g Honey
200g White sugar
100g Demarara or brown sugar
3 eggs
1 Teaspoon Vanilla extract
180ml Strong coffee
40ml Golani Honey Whiskey
120ml Citrus juice (pineapple, orange, lemon – any combination)*
Make the Magic Happen:  
Preheat oven to 180c

Prepare your tube pan. This used to be my job when I was young.
cut out a parchment circle to fit the bottom of the pan
grease the inside, bottom and tube thoroughly
dust with flour
put the parchment in the bottom 

In your mixing bowl, beat the following thoroughly:

oil
honey
sugars
vanilla
coffee
citrus juice
whiskey
eggs
cinnamon, cloves, and nutmeg

In another bowl, or on a piece of paper, combine the:

flour
flax meal
baking soda
baking powder
salt

Beat the flour mixture into the wet batter mixing bowl until just combined 
Scrape the sides and bottom of the mixing bowl
Allow it to sit for 5 minutes
Beat for 3 more seconds
Pour into your prepared tube pan
Bake for 1 hour at 180c. The clean skewer test will guide you
Allow to cool at least 20 minutes before inverting on to a plate. Serve naked or with frostings or shmears of your choice.
Store in an airtight container. Refrigeration is not a bad idea. Freezes well and makes a great gift.
*I did not have enough citrus juice so instead I used a combination of the remaining spiced pineapple syrup from the RumbleBee and some lemon juice. Use what you've got.