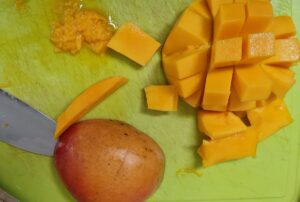 I've challenged myself to post 29 honey recipes in the next month – BEFORE Rosh Hashana.
Not just your Bubbe's honey cake. As a beekeeper and avid cook, I can take you and your honey places you've never been before- culinarily speaking.
So let's get beeeeezy.
Alas poor Mango, I knew it well. A bit too well, and not fondly, either. But among beekeepers we can have a lot of fruit trees. The bees may like them, although other, smaller native pollinators and the wind are responsible for mango pollination. We are sometimes at a loss as to how, ahem, disperse the fruits. Thus descend the mangoes, but fear not. I have found a home for these slippery orange fruits and you won't even know it's there. (Can you tell I'm not so fond of mango?)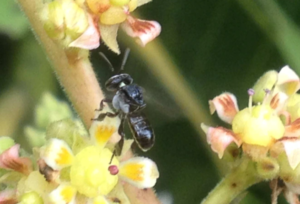 Honey-Mango Tea Loaf
You will need: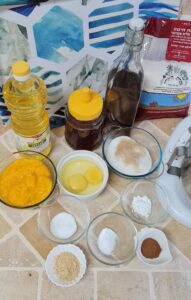 Stand mixer with paddle or large mixing bowl with an appropriate spoon
Food processor or stick blender – depending on the ripeness of your mango
Oven
Loaf or cake pans, either floured & greased, or lined with baking parchment
425g 70% wheat/white flour
20g flax meal
160ml Vegetable oil
80g Demarara or brown sugar
80g White sugar
100g Honey
1 teaspoon ground ginger
1 teaspoon baking powder
1.5 teaspoons ground cinnamon
2 Eggs
2 teaspoons vanilla extract
250g mango puree – that's about 1 average-sized mango
The Transformation Process: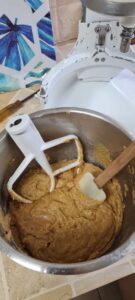 Preheat the oven to 180c
Prepare your pans
Seed, peel, and puree your mango
Whisk the dry ingredients together
Beat together the sugar, eggs, oil, vanilla, and cinnamon until slightly frothy
Mix in the mango puree
Add the dry ingredients and stir just to combine – the batter will be sticky, and may remind you of (gasp) carrot cake.
Fill your selected & prepared pans to about 2/3 full
Bake at 180c for 45 min – 1 hr. depending on the size of your pans. Do the clean skewer test.
Cool on a rack, removing from the pan after 10 minutes.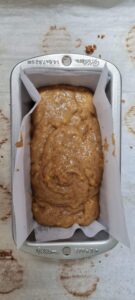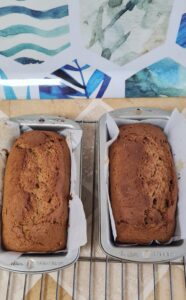 Enjoy naked (the cake, silly), with butter, honey, or with one of several shmear-able concoctions blogged about before. Makes a great gift. Freezes well.