I've challenged myself

to post 29 honey recipes in the next month – BEFORE Rosh Hashana.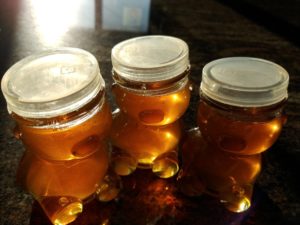 Not just your Bubbe's honey cake. As a beekeeper and avid cook I can take you and your honey places you've never been before- culinarily speaking.
So let's get Beezee.
Giant Leaves
Am I boring you yet with my non-gardening tales? You can't kill a fig tree if you try. And every time we turn around another seems to have sprouted. I counted no less than 8 mature and wanna-bee fig trees around our house this week. They do offer great shade. So what else can you do with a fig?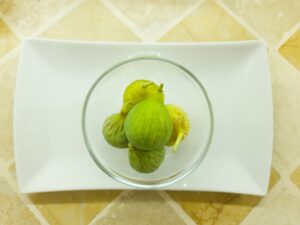 Honey-Roasted Figs
You knew that was coming, right?
Put the figs in the oven and forget them for 40 min! Cinnamon, rosemary and honey. Maybe a quick turn of black pepper. If you don't do something with all of those figs they're just going to make a sticky mess everywhere.  Great as a snack or dessert. Even better with ice cream – almost everything is better with ice cream. But back to figs…
What you'll need:
5 fresh figs
30-40g honey
½ tsp ground cinnamon
Rosemary sprigs
A quick grind of pepper – optional
Baking dish & oven
This scales easily, so just increase the proportions appropriate based on your bounty of figs.
How to do it
Preheat the oven to 180c
Slice the figs. Quartered is nice, but any way will do.
Drizzle (or slather, if you prefer) with honey
Sprinkle with cinnamon
The optional, petite grind of pepper
Toss rosemary sprigs over the top
Bake for 40 minutes
Cool for 10-15 minutes
Serve drizzled with more honey if desired
These just melt in your mouth. They also freeze well. And that's what you can do with figs.