I've challenged myself

to post 29 honey recipes in the next month – BEFORE Rosh Hashana.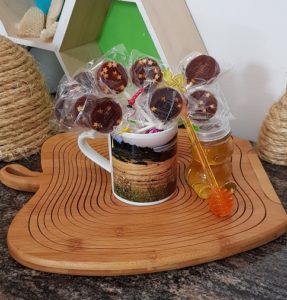 Not just your Bubbe's honey cake. As a beekeeper and avid cook, I can take you and your honey places you've never been before- culinarily speaking.
So let's get bizzzzzy.
What is a sweet tooth?
According to most sources, having a sweet tooth means you like sweets. Sweets get a bad rap and it's important to understand how different sugars impact your tongue, body, brain, and emotions.
Fructose is the sweetest of all the given sugars. An estimation of concentration of sugar revealed that if sucrose has a sweetness of one, glucose will be 0.74 and fructose may count up to 1.7. Fructose is the main sugar found in honey, followed by glucose and sucrose. The sweet taste of honey is attributed to its higher fructose content, and fructose is known to be sweeter than glucose or sucrose
Honeyed Greek Yoghurt with Granola
So what do I crave after a hot day in the bee yard? Ice cream. But I am sooo picky about ice cream. My current fav is Zev Padway's vanilla chai, a non-dairy confection available only in Safed, Israel by very very special request- thanks COVID.
BUT  – I was recently introduced by Esther Lupo, a Grande Dame of Israeli beekeeping, to the wonders of Greek Yoghurt with granola. I try and spend at least one day a month with Esther & Azaria Lupo, both my beekeeping mentors.
At the end of a recent visit, after shvitzing away in +40c temps for about 6 hours, she asked me what I wanted. I collapsed and said, "ice cream." Whereupon I was presented with a cold, Greek yogurt.
It was divine.
It's not ice cream, but my go-to substitute for ice cream short of calling Zev, has become Greek yogurt – with the requisite 30g of honey and about the same amount of granola. Much less picky about granola than ice cream, so I shall not proffer any recipes for granola.
What you'll need:
Greek yogurt- cold, not frozen
Equal volume of granola of choice
30 grams of honey
How to do it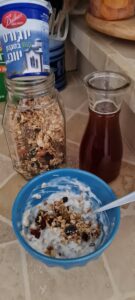 Really? You need me to explain this to you? Mix it together. Add extra dried fruits and nuts if you like and enjoy. This will satisfy you. You're welcome.