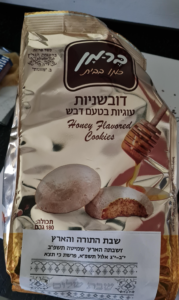 I've challenged myself to post 29 honey recipes in the next month – BEFORE Rosh Hashana.
Not just your Bubbe's honey cake. As a beekeeper and avid cook, I can take you and your honey places you've never been before – culinarily speaking.
So let's get buzzy ;).
Using honey in baked goods has several advantages over using sugar. Honey creams with fats rapidly giving a smooth fluffy mixture. Honey produces an attractive deep brown crust on breads. Since honey absorbs moisture from the air, baked goods remain moist and fresh much longer than when cooked with sugar.
How did I get to this place?
I never ever intended to write about honey cookies, but a few things have happened recently which compel me to deviate from previous plans.
We recently attended a weekend retreat among other like-minded folks with various agricultural concerns. We were flattered to be asked to provide honey as part of each family's "gift basket" but equally disturbed that said basket also contained – THESE –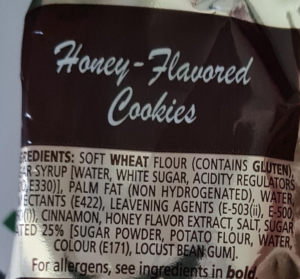 Yes, honey is an expensive and finicky ingredient in baking, but I don't think they even had a poster of honey in the factory where these were made. With a glancing experience in the flavoring industry (a brief consulting job years ago) I recall that honey is one of the most difficult flavors and scents to reproduce chemically. These cookies tried really hard. A bit too hard. The artificial flavor not only obliterated the possibility of honey but decimated the "cookie" moniker as well.
With my apologies to the sweet L. Michaelson for dismissing her suggestion to post a honey cookie recipe (I was looking for "unusual" recipes, her hubby and I rhapsodizing about honey salsas, etc.) I humbly offer the following. Also shout-out to Rick Martinez, who doesn't know who I am, but seriously upped my cookie game during COVID.
Honey Cookies
I grew up with biscuits, but most people I associate with these days don't get it, so I've adopted "cookies."
What you'll need:
An oven
Baking pan & Baking paper (or equivalent)
Mixing bowl and spoon or stand mixer
small saucepan and source of heat for same
small cookie scoop – optional
Ingredients: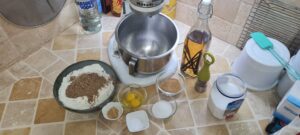 60g brown sugar
30g white sugar
240g coco margarine
250g honey
1 whole egg + 1 yolk
1 teaspoon vanilla extract
1 teaspoon baking soda
600g flour
50g flax meal
¼ teaspoon salt
1 teaspoon ground ginger
A few grinds of black pepper
Phase I
Melt together the margarine, sugar, and honey in a saucepan- allow to cool
Phase 2
In a stand mixer, combine together eggs, vanilla, baking soda, and ginger
Add cooled honey mixture
Add flour until all is combined
Refrigerate for 30 minutes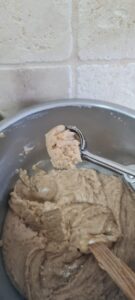 Phase 3
Preheat oven to 180c
Drop by spoonfuls onto a parchment-lined baking pan – scoop works great
These do not spread, but allow them some space on the pan anyway
Bake at 180c for 12 ½ minutes or until golden – know your oven