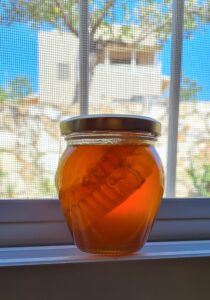 I've challenged myself to post 29 honey recipes in the next month – BEFORE Rosh Hashana.
Not just your Bubbe's honey cake. As a beekeeper and avid cook, I can take you and your honey places you've never been before- culinarily speaking.
So let's get bizzzzzzy.
Honey Waffles
Why? Because it's almost Wednesday, of course. Waffle Wednesday is a THING.
These waffles are super-easy and satisfying year-round, and pair fantastically with our favorite adulterated (gasp) honey – a 50/50 blend of our honey and 100% maple syrup. Both are incredibly precious and labor intensive making them all the more delicious when combined.
What you'll need:
a waffle iron –  not negotiable
mixing bowl and spoon
350 grams of oat flour
65 ml coconut oil
2 tablespoons baking powder
1/2 teaspoon salt180 ml milk of choice – we prefer rice
splash of lemon juice – to fake your milk into thinking it's buttermilk
2 eggs
30g honey
1 teaspoon vanilla
How to do it
add lemon to milk – remember, you're fooling it into thinking it's really buttermilk
mix dry ingredients together
mix wet ingredients together,  separately
pour wet into dry and mix thoroughly
allow to rest 10 minutes
pre-heat your waffle iron-

at this point I should probably add some disclaimer about "follow your manufacturer's instructions…"- yes please, do that

prep your waffle iron surface "according to manufacturer's recommendations" – I use a silicone brush with a bit of coconut oil
Commence waffling!
Oh goodness- BONUS– don't forget that special syrup! While your waffle is doing its thing in the iron, as generously as you care to, measure equal parts raw honey and 100% maple syrup into a container you can pour from. Old, clean jars are perfectly suitable, especially since they usually have lids allowing you to save unused portions for later use.
Wow- your waffle is done! Make sure you enjoy the first one because you'll be too busy later making them for everybody else.
MMMmmm- I think it's Wednesday now. Guess what I'm going to do…